At war with Death – Rest in Peace Auntie Herta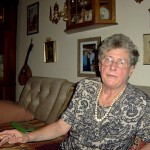 Herta Oeltze
born Aug. 26th 1931 (as Herta Plank)
died Feb. 18th 2009
The dark and cold one,
the eternal,
the unescapable,
remorselessly swung his scythe again,
taking another member of my family,
into the depths of his realm…
It's hard to tell anyone about my dear Aunt Herta,
without evoking the picture of an unlikeable person
in someone who did not know her.
She was a harsh person,
extremely negative in her perception of the world,
widow to a small time con artist and womanizer,
mother of two sons and a late born daughter,
none of those made it easy for her,
none of those had it easy with her.
She partly raised my father and
also took me under her wings,
when our mothers where to busy working,
eagerly trying to provide for their sons.
(Great-) Aunt Herta,
bitter and dark as she was,
had a heart as big as a mountain,
truly loved her sons and nephews,
not only despite but also because
we where dodgers, rascals and pranksters.
Aunt Herta left us at the age of almost 78,
when she began to lack the power to provide for herself,
when the retirement home seemed the only way to go,
if she wanted to survive.
I regret not having visited her when she was in hospital
some weeks ago,
too agonised I think I was by my experiences with Viola,
not wishing to witness another of my kin fade away.
So I missed that opportunity to say goodbye.
I am sorry Auntie, deeply so.
So, grim reaper,
i strongly suggest,
when Aunt Herta is cooking something for you,
you'd best take your place at the table immediately,
with washed hands,
sit upright,
show manners,
eat up and don't forget to praise her cooking skills adequately,
treat this woman with respect,
or she'll show you,
I can promise that.
Herta, you where one of my darkest stars,
and deep down you knew,
and you taught me in many ways,
It's all just one big fucking Joke!!
Thank you
with all my heart
your rascal Patrick