Monday, September 22nd, 2008
Journey and Arrival
I left Vienna exactly at 18.55 utilising an Airbus 320 from "Fly Nikki"
Arriving at Paris' Charles de Gaulle International Airport around 20.45. Due to a strike on the train line RER buddy Milan wasn't able to get me from the airport, so i travelled into the city by myself, meeting him at Gare du Norde, then finally going to his place in Cachan, a parisien suburb.
First lesson you have to learn when going to France:
At school we learned France looks like this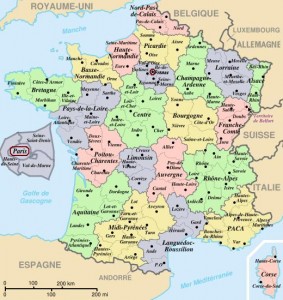 But for the french France looks like this:
Other than that I am really lookin forward to this vacation …..